Faked Secret
Author(s)
: Regicider
Game
: Serious Sam : The Second Encounter
Type
: Single Player and Cooperative
---
Everyone remembers their first map, and (most) everyone remembers it being a piece of garbage. They usually suffer from a number of technical problems, the architecture doesnít look very good, and the fights arenít particularly fun or balanced well. In most cases I wouldnít suggest releasing your first map at all; just use the experience to get to know the editor and all its features.
Unfortunately, Faked Secret is not one of the rare exceptions to the rule. In this project, Sam learns that Mental has captured his brother and must hunt down the Gnaar responsible. The map is introduced rather nicely by a cutscene showing Samís brother being tortured, and a couple of Netricsa messages drive the plot to its ultimate conclusion. Sure, the plot is a little silly, but given the scope of this map itís impressive the author bothered to include a storyline at all. Faked Secret is short. Very short. Itís made up of fewer than 10 small rooms and will probably take you less than 15 minutes to blast your way through. While cooperative play is technically functional, I wouldnít recommend it; the map is just too short, too cramped, and too bland to make co-op exciting.
While Iíve certainly seen worse visuals in first maps, Faked Secret is not going to impress anyone. Virtually every room in the map is a perfect rectangle, and while most rooms do have a few models, every room looks extremely blocky and some things look incredibly unnatural (the pyramid, for example). A bit more structural detail and some terrain in the outdoor areas would have done wonders for this map. Textures are passable (nothing tiles too horribly, probably because the environments are so small), but pretty much every room uses a completely different texture set. Itís impossible for a player to feel engaged with the environments when they seem so haphazardly flung together. The map also suffers from a number of technical problems. Many of the doors only open halfway, I got a strange error message on the elevator, z-fighting is prevalent, and the list goes on and on. To put it simply, Faked Secret needs a lot more polish.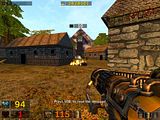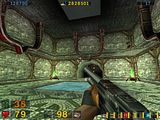 The mapís combat is about on the same level. All the arenas are painfully small and give you absolutely no room to maneuver. When you combine these arenas with high threat enemies (red mechanoids, kamikazes, etc.), the combat can become frustrating pretty fast. Also, in some hallways enemies like Kleer or kamikazes spawn literally right in front or right behind you, giving you no chance whatsoever unless you know theyíre coming. On the upside, there are a few interesting battle ideas here. One room has you fighting a gravity battle on the surface of a pillar while kamikazes rush down at you from the ceiling of the room. The pillar really should have been larger (itís to hard to maintain control on something so thin), but it was an exciting fight. And of course the final battle takes place in a room without gravity, which is a simple concept but one I havenít seen implemented in a custom map yet. Overall the combat is not particularly exciting or engaging (and occasionally pretty frustrating), but is certainly not as terrible as it could have been. Itís at about the same level of difficulty as the main campaign, so youíre probably best off playing this at your default difficulty level.
There really isnít too much here besides combat. There are a couple of puzzles (one requires you to find a hidden switch, which is pretty clever), and a couple of secrets (mostly just hidden health and ammo), but what really stands out is the music. The author took a risk by using custom music, and for the most part, it works well. The main track sets a Wild West ambiance, which makes sense with Serious Sam, and the battle track is some form of rock that may not exactly get your blood pumping but itís a nice part of the mapís atmosphere.
Overall, Faked Secret is a good example of why you shouldnít release your first map (remember, your first project was probably about the same). It just suffers from too many technical, visual, and combat problems to be all that enjoyable. Feel free to try it out though if youíre particularly bored.
Overall Score : 35/100 Poor